Before Severe Weather Strikes, Make Plans to Be Prepared | SERVPRO® of Palo Alto
5/26/2020 (Permalink)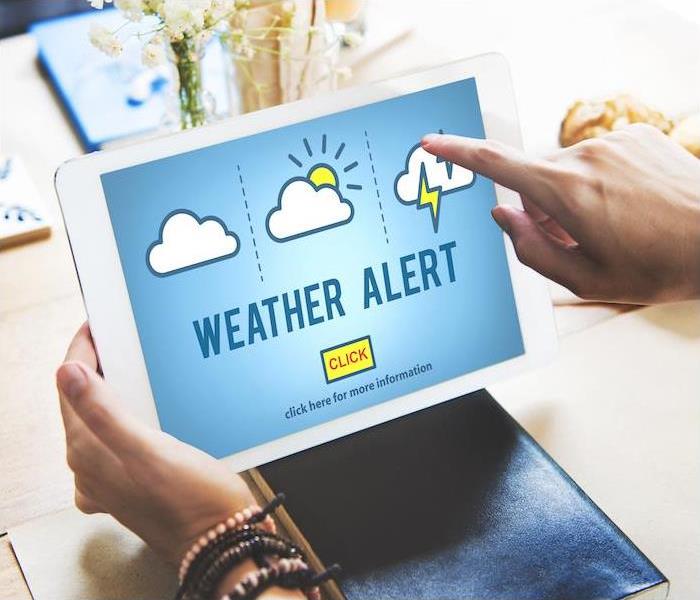 If your home has been impacted by storm damage, SERVPRO of Palo Alto will respond quickly to assist in any repairs.
Severe weather can be something that we disregard with time, especially if we have been through previous storms that did not lead to any life-altering damages.
This is a dangerous outlook to take, because every single storm has the potential to cause serious damage and should be regarded as something to be wary of. You should always have a severe weather plan for preparedness in place—understand a watch and warning notification, stock your disaster supplies and find a reliable way to receive weather updates in advance so you can be prepared if severe weather does strike.
Understand a Watch and Warning Notification
If a weather watch or warning is issued, it is important to understand what that means so you can react appropriately and safely. When a severe weather watch is issued by local authorities, that means that they are anticipating a storm because conditions indicate one could occur. This is not the same as a warning, which means an active storm is in the area and you should seek safe coverage right away.
Stock Your Disaster Supplies at Home
While a storm is nearby, you want to be certain you have all the supplies you need on hand in order to hunker down and wait it out. You will want to have first-aid supplies, food and water, and a dependable light source like a battery-operated flashlight in case the electricity fails due to the storm. You should also have an area of your home that serves as a "safe zone," such as a hallway or bathroom where your family can seek shelter.
Find a Reliable Way to Receive Weather Updates
For most of us, our cell phone is typically the best way to receive alerts about nearly anything going on in the world—but when it comes to severe weather, that is not the case. Storms can often knock out cell phone reception and power, rendering a phone useless, especially if the battery dies. It is important to seek a more reliable way to get these updates such as a NOAA Weather Radio so you can be certain you always have the information you need.
If your home has been impacted by storm damage, we are here for you. You can contact us 24⁄7 to get a quick response to your home's damages.