Take Precaution Every Time You Light Your Grill | SERVPRO® of Palo Alto
7/24/2020 (Permalink)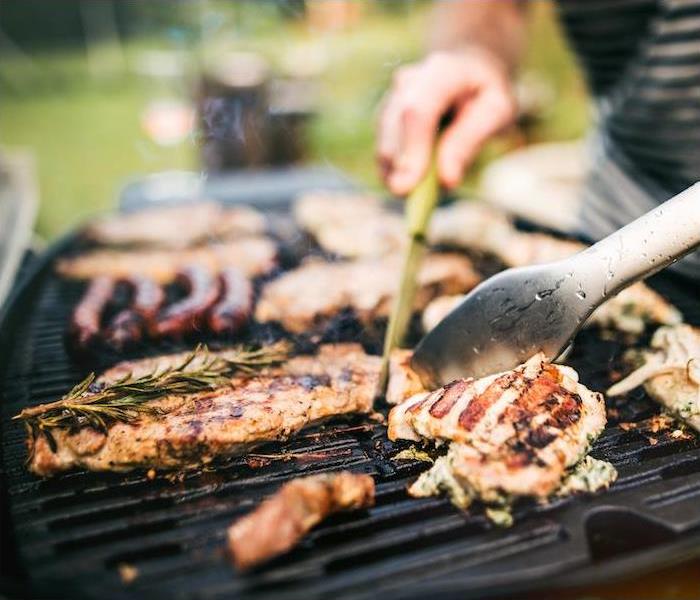 SERVPRO of Palo Alto is the fire restoration experts. To learn more give us a call or contact us online.
Cooking a homemade meal is a great way to spend time together as a family, especially if you are taking advantage of your backyard space and your grill. Grilled food is always delicious, but we do encourage people to remember their fire safety considerations every time an open flame is around.
Grill fires happen more regularly than many people realize—nearly 6,000 occur annually, according to the U.S. Fire Administration. A few fire safety tactics can go a long way to ensuring every cookout is a safe one.
Ensure Every Cookout Is a Safe One With Fire Safety Tips
Create a safe zone around your grill. While the deck right outside your back door may seem like the most logical place to put your grill, it may not be the safest. Three feet is the recommended safe zone for grilling—this is the zone where there is nothing that could catch on fire or melt, just in case.
Clean your grill grates often. Good grill habits involve regularly cleaning your grates, but this is good for more than keeping cooking temperatures consistent. As food particles and grease accumulate on the grates of the grill, they can heat up and catch fire eventually. By regularly scraping down your grates, you can significantly lessen the chance of this occurring.
Never leave the grill unattended. As with any open flame, a lit grill should never be left unattended, even with a closed lid. Fires can happen in an instant, and if you are not there with your fire extinguisher, they can get out of hand before you know it. Having someone take over so you can take a break is a wise way to prevent any accidents.
Inspect the grill regularly. It is always a good idea to do a visual inspection of your grill, even if you have been using it regularly. With use, gas connections and hoses can deteriorate and cause leaks, which can lead to a catastrophe if the grill is lit and gas vapors are in the air. Making an inspection part of your habit is one of the best things you can do to ensure you are being safe.
If you have a grill fire that does damage to your home, we are here to help. You can call us any time, day or night, to have a quick response from our restoration experts.