How Palo Alto Homeowners Can Avoid Fire Damage From Space Heaters
1/6/2021 (Permalink)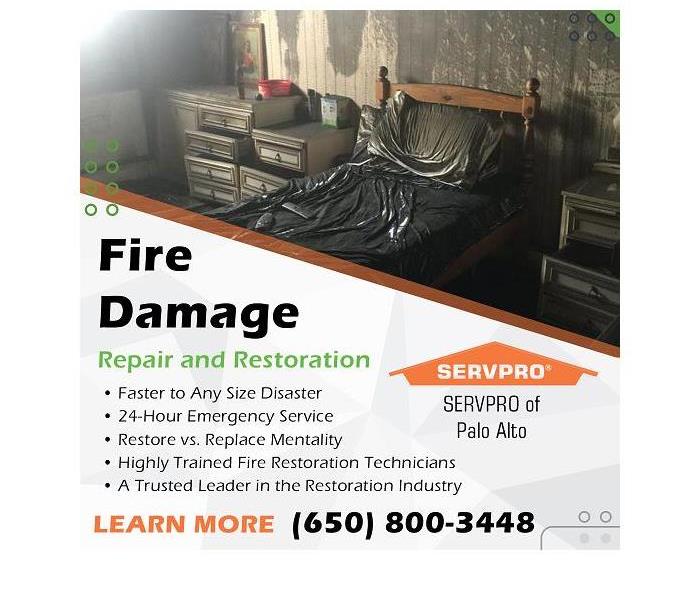 Blog Summary: SERVPRO of Palo Alto offers ten space heater safety tips.
SERVPRO of Palo Alto is a locally owned and operated damage restoration company that is known for putting customers first. The technicians specialize in the cleanup and restoration of residential and commercial properties after a fire, smoke, or water damage incident. They also take care of mold and mildew outbreaks in homes or businesses. No job is too big or too small for SERVPRO of Palo Alto to handle, including fires caused by a space heater or other source of household warmth during the cold winter months. The highly trained staff is equipped with the knowledge to restore any property, residential or commercial. They understand the stress and worry that comes with fire or water damage. Their goal is to help minimize the disruption and restore the property to its pre-damage condition.
Palo Alto, CA, experiences one of the most temperate climates anywhere in the United States. The Mediterranean climate means that residents enjoy sunny comfort much of the year. However, the months from November through February do usher in cooler temperatures. A cozy fireplace or the warm glow of a space heater accompanied by a toasty cup of herbal tea or hot chocolate easily remedies a late evening or early morning chill.
Because of its compact size and energy efficiency, homeowners often use space heaters to help keep a particular living area warm. There are four types of space heaters that operate through the use of electricity:
Convection heaters
This type of heater circulates air through the body of the appliance, which contains a heating element.
Fan heaters
This device includes an electric fan to increase airflow. It is a type of convection heater.
Oil heaters
In this type of convection heater, the casing of the heater is filled with oil, which provides a more even heating. These heaters often look like the old-fashioned radiator.
Ceramic heaters
This technologically advanced heater utilizes a heating element that attains a high temperature. The element is contained in a glass (ceramic) envelope.
Although these heaters are an effective way to provide additional warmth, they can also pose a fire hazard.
Fire Facts: Space Heaters
One-half of all home heating fires occur in December, January, and February.
Eight out of ten home heating fires involve space heaters.
One-third of home heating fires are caused by space heaters.
One-fourth of home heating fire deaths were due to space heaters located too close to clothing, bedding, or upholstered furniture.
Space Heater Fire Prevention Tips
These simple tips promote the safe operation of space heaters.
Inspect the unit, power cord, and plug before operating the heater. Carefully follow all maintenance and operating instructions at all times. Never operate a heater that is damaged or intermittently malfunctioning.
Keep space heaters at least three feet from common combustibles such as bedding, clothing, and furniture.
Keep pets and children away from space heaters.
Never leave an operating space heater unattended.
Avoid using a space heater in a damp room, such as in a bathroom when taking a shower. The excessively moist air can cause the space heater to short, resulting in an electrical fire.
Always place the space heater on a stable, level, and nonflammable surface. Do not run the cord under a rug or carpet runner where it can be damaged by heavy foot traffic or impact from an object such as a canned good, tool, or piece of furniture.
Do not use an extension cord with a space heater. The extension cord may arc and cause a house fire.
Plug a space heater directly into an outlet with enough capacity and a snug fit.
Make sure all smoke alarms are working and are on every level of the home. Test smoke alarms monthly.
Never use a stove or oven as a substitute for a space heater.
Newer space heaters have advanced technology that makes them much safer and more efficient than older units. Consider purchasing a newer space heater if the one currently being used has not been properly maintained and is more than several years old. Do not place food, paper, beverages, or cushions on top of a space heater.
In case of a home heating fire, SERVPRO of Palo Alto is available 24-hours a day, 365 days a year to help regain control of the situation quickly and begin the fire damage restoration process. For more information about fire damage restoration in Palo Alto, CA, and the surrounding area, contact the office by phone at (650) 800-3448 or email office@SERVPROpaloalto.com.