How to Deal With Mold Growth in Commercial Buildings
2/11/2021 (Permalink)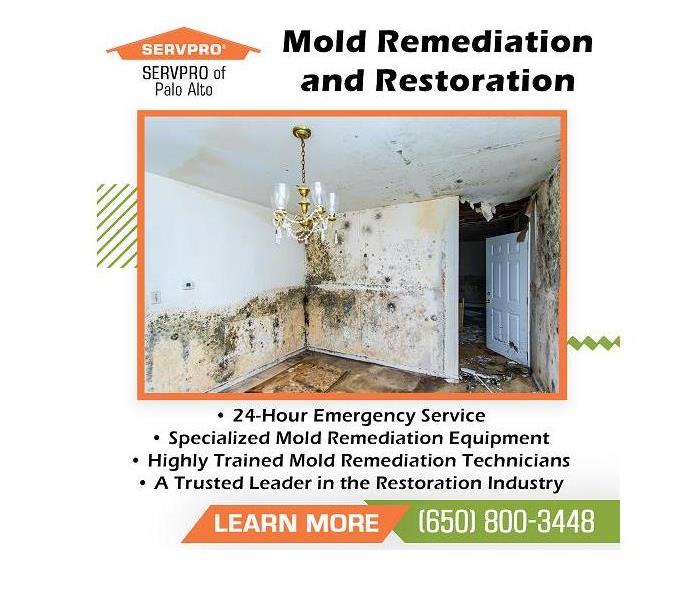 Blog Summary: SERVPRO of Palo Alto explains how mold infestation in commercial buildings creates a hazardous health environment that can lead to serious legal liability.
SERVPRO of Palo Alto, a locally owned and operated company providing property damage restoration and mold remediation in Palo Alto, is known for putting customers first. The team specializes in the cleanup and restoration of commercial and residential properties after a fire, smoke, or water damage disaster. No job is too big or too small for SERVPRO of Palo Alto to handle, including commercial mold remediation and damage repair.
The highly trained staff is equipped with the knowledge, equipment, and technology to rapidly restore any commercial property that has a mold infestation. The goal is to minimize the disruption to business operations while restoring the property to its pre-damage condition.
Health Risks in a Commercial Environment
According to the Centers for Disease Control, "Mold can cause many health effects."
Commercial sites such as a retail store, apartment complex, daycare, nursing home, call center, or manufacturing facility where employees and some clients are subjected to lengthy exposure to mold can trigger health effects.
Legal Liability Resulting From a Mold Infestation
The symptoms employees, customers, and other building occupants experience are real and can cause health effects that may result in litigation that can be catastrophic for the offending parties.
Here are some tips for commercial site owners as well as prospective buyers and tenants with regard to mold issues that may arise in a commercial facility.
Assess air quality and possible mold issues before signing a lease or closing on a property.
Learn the financial responsibilities and property management obligations concerning mold issues prior to signing a lease or closing on a property purchase.
Ask such questions such as:
Who will pay for the initial inspection before lease signing or closing?
Who will be responsible for any existing mitigation and damage repairs?
Which party is responsible for monitoring the site for future infestations?
Should another mold outbreak occur, will the tenant be responsible for the property damage restoration?
If the site owner is responsible for monitoring, what are the terms of access to the facility?
If the tenant fails to report evidence of a mold infestation or a water damage incident such as a roof leak, water line leak, or other continuing moisture issue, does liability shift from the owner to the tenant due to the neglect to report the problem?
If other building tenants suffer mold infestations traceable to a source not within their location, who assumes the responsibility for the assessment, treatment, and damage restoration?
If a customer, employee, or other building occupant suffers personal injury, who will make compensation?
Include mold issues when seeking legal review and advice before finalizing the lease agreement or closing on the purchase of the property. This investment could prove to be very valuable in the future.
Solution: Focus on Prevention and Quick Mitigation
When all issues are resolved and the facility is leased or purchased, focus on prevention. Stay familiar with tenant expectations assigned in the lease agreement. Address leaks, water damage, or signs of mold the moment they are noticed. Document everything. Remember that personal injury, pain and suffering, and medical expenses experienced by customers, employees, or other occupants in the building could result in litigation.
In case of a commercial mold infestation in a setting such as a retail outlet, office building, apartment complex, or manufacturing unit, SERVPRO of Palo Alto is available 24 hours a day, 365 days a year to help regain control of the situation quickly and begin the restoration process. Quick response, rapid remediation, and minimal or no disruptions enable the business to continue to meet the needs of customers or tenants in a safe environment.
For more information about commercial mold remediation in Palo Alto, CA, contact the office by phone at (650) 800-3448 or email office@SERVPROpaloalto.com.