Why Palo Alto Homeowners Should Practice Fireworks Safety on the Fourth of July
6/8/2021 (Permalink)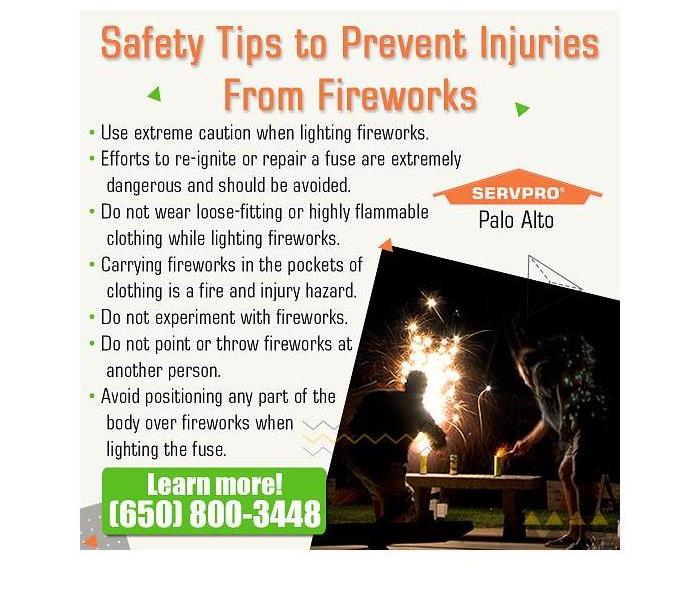 Blog Summary: As the Fourth of July approaches, homeowners should make sure that they know and abide by proper fireworks safety practices, as well as local regulations governing fireworks.
Locally owned and operated, SERVPRO of Palo Alto is a damage restoration company known for exceptional customer care. The team of professionals provides reliable cleanup and restoration services for residential and commercial properties that have suffered a water, fire, or smoke damage disaster.
Certain holidays are associated with an elevated risk of a fire damage event. One such holiday is the Fourth of July, a festive and patriotic celebration that often involves elaborate fireworks displays. SERVPRO of Palo Alto wants to help local residents ensure that the Fourth of July is safe and free of fire damage.
Fireworks Are Dangerous
Fireworks are as American as apple pie and have been a part of patriotic celebrations for almost 250 years. Though they are enjoyable and exciting, fireworks are dangerous and are responsible for multiple deaths and thousands of injuries each year.
According to the official website for the city of Menlo Park, which neighbors Palo Alto, "In 2018, five people died and over 9,100 were injured badly enough to require medical treatment after fireworks-related incidents. Of these, nearly 50% of the injuries were to children and young adults under age 20. Approximately 5,600 fireworks-related injuries, over 62% of injuries, took place during the one-month period from June 22 to July 22, 2018. An estimated 1,700 injuries were from less powerful devices like small firecrackers and sparklers – 500 of those from sparklers alone!"
Palo Alto Fireworks Safety Tips
The California Department of Forestry and Fire Protection (CAL FIRE) offers several helpful fireworks safety tips for the residents of Palo Alto and the state of California.
Know the Local Laws Regarding the Purchase, Possession, and Use of Fireworks
Due to the threat of wildfires and the potential for personal injury, fireworks have been banned in certain areas of California. Residents can access local ordinances to learn which fireworks are permissible where they live. Some municipalities allow for the sale and use of "Safe and Sane" fireworks. California strictly enforces the laws surrounding illegal fireworks. According to CAL FIRE, illegal fireworks are defined as "fireworks that explode, go into the air, or move on the ground in an uncontrollable manner."
Illegal fireworks include sky rockets, bottle rockets, Roman candles, aerial shells, firecrackers, and as mentioned above, other "fireworks that explode, go into the air, or move on the ground in an uncontrollable manner."
Selling, transporting, or using fireworks that do not have the "Safe and Sane" seal from CAL FIRE is not permitted. Local municipalities may pass ordinances forbidding the possession or use of all fireworks in that community.
Violators of the law could face fines of up to $50,000 and jail for up to one year. Approximately 300 California communities permit "Safe and Sane" fireworks. All pyrotechnic operators, fireworks manufacturers, importer-exporters, wholesalers, retailers, and public display companies must be licensed by the office of the State Fire Marshal.
Fireworks Safety Tips
Know what the local ordinances allow before using fireworks.
Use only those fireworks that have been approved by the State Fire Marshal.
Always have an adult present when fireworks are in use.
Never use fireworks indoors or discharge them in a fireplace or wood stove.
Keep fireworks away from dry grass or other flammable materials.
Have a bucket of water and a garden hose nearby and ready for immediate use in case a fire erupts.
Carefully read, understand, and follow the manufacturer's directions for the fireworks.
Light one firework at a time.
People cannot be too cautious when using fireworks, especially when the weather has been dry. Always check to see if any fire advisories are in force, temporarily banning the use of fireworks.
Safety Tips to Prevent Injuries From Fireworks
Use extreme caution when lighting fireworks.
Efforts to re-ignite or repair a fuse are extremely dangerous and should be avoided.
Do not wear loose-fitting or highly flammable clothing while lighting fireworks.
Carrying fireworks in the pockets of clothing is a fire and injury hazard.
Do not experiment with fireworks.
Do not point or throw fireworks at another person.
Avoid positioning any part of the body over fireworks when lighting the fuse.
Immediately back away several feet after lighting fireworks.
Fireworks are not toys and should not be handled by small children. Parents can be held financially responsible for any damages or injuries resulting from their children's use of fireworks.
Follow these injury prevention safety tips while using "Safe and Sane" certified fireworks to promote both a great time and a safe outcome for all parties involved, including the forest.
SERVPRO of Palo Alto offers these tips to encourage safe celebrations on the Fourth of July! The technicians have the knowledge, experience, equipment, and advanced technology to meet any fire damage restoration challenge. In the event of a fire, smoke, or water damage disaster, trust the SERVPRO professionals to arrive faster to any size disaster. The SERVPRO team is renowned for exceptional customer care from start to finish.
To learn more about fire damage restoration in Palo Alto, CA, and the surrounding area, contact the team at SERVPRO of Palo Alto by phone at (650) 800-3448 or email office@SERVPROpaloalto.com.