How Property Owners Can Stay Safe When an Earthquake Causes Fire Damage in Redwood City, CA
9/21/2021 (Permalink)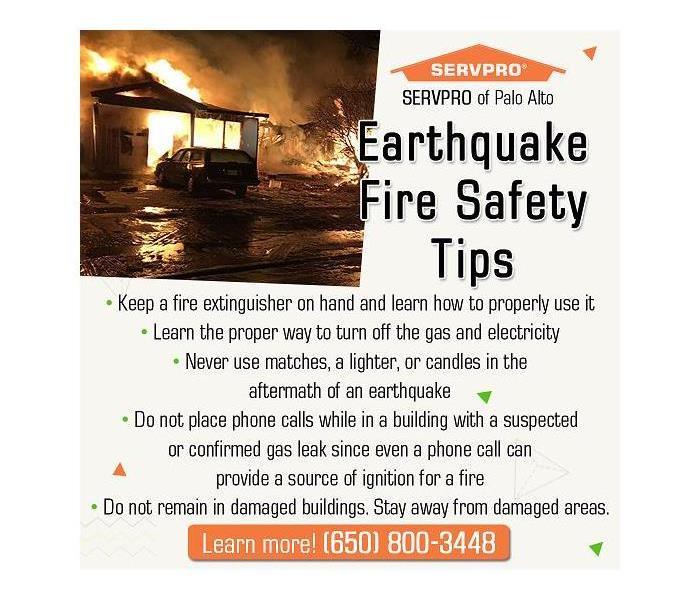 Blog Summary: Earthquakes are powerful seismic events that also have the potential to cause fire damage. SERVPRO of Palo Alto is committed to helping local property owners recover when fire damages their homes or businesses in the aftermath of an earthquake.
A major earthquake is a devastating event that can cause not only structural damage but also fire damage and water damage. Home and business owners in Palo Alto and surrounding areas such as Redwood City, Atherton, and Sunnyvale understand that earthquakes are a common concern for the area. In fact, the state of California experiences over 100 earthquakes per day. SERVPRO of Palo Alto is sharing fire safety tips to help homeowners stay safe in the aftermath of fire damage caused by earthquakes.
How Does an Earthquake Cause Fire Damage?
The Pacific Northwest Seismic Network notes that fire damage "has long been recognized as a major hazard following earthquakes. Before the 20th Century, earthquakes would often upset burning candles, lamps, stoves and fireplaces (with dangerous fuels common). Today in the US, ruptured gas lines and arcing electrical wires are the most common sources of ignition. In addition to providing chances for ignition, earthquakes can block access to fire fighting equipment and damage fire-fighting water supplies, making fighting the blazes, of which there might be many across a city, especially challenging."
A relatively recent earthquake that resulted in widespread fire damage was the 1994 Northridge earthquake that affected the Greater Los Angeles Area. According to the California Fire Prevention Organization, "Within minutes of the Northridge earthquake, LA City firefighters were en route to multiple fires in the San Fernando building. In the period from 4:31 AM through midnight, there were approximately 110 earthquake-related fires."
Earthquake Fire Safety Tips
Keep a fire extinguisher on hand and learn how to properly use it.
Learn the proper way to turn off the gas and electricity. If gas or electric lines are damaged, turn the valve off. If gas is smelled, open all of the home's windows and doors and leave the premises immediately. Report the gas leak to the authorities.
Never use matches, a lighter, or candles in the aftermath of an earthquake. A gas line could be broken, and any type of fire or flame could set off a conflagration. Also, do not place phone calls while in a building with a suspected or confirmed gas leak since even a phone call can provide a source of ignition for a fire.
Do not remain in damaged buildings. Stay away from damaged areas.
How to Safely Remediate Fire Damage Caused by Earthquakes
As a locally owned and operated damage restoration company, SERVPRO of Palo Alto has experience in safely dealing with fire damage that results from seismic events common to the local area. Highly trained technicians use state-of-the-art equipment and resources to remediate the damage. In contrast to smaller restoration companies that are not part of a franchise, SERVPRO of Palo Alto is able to deliver a highly scalable response to complete large or small jobs for both residential and commercial clients.
Fire damage is often accompanied by secondary damage, including smoke damage, water damage, and mold damage. SERVPRO of Palo Alto has competencies in a variety of different restoration specialties, so the crew can tackle complex remediation situations.
One way to minimize the scope of secondary damage is to trust the restoration project to a company that can act quickly and arrive on the scene promptly. A rapid response limits primary and secondary damage and prevents additional damage, which lowers restoration costs.
What Is the SERVPRO Fire Damage Restoration Process?
While each fire damage incident is unique, the general remediation process, by and large, remains the same. The typical timeline for a damage restoration project is outlined below:
A property experiences fire damage, whether from the aftermath of an earthquake or other cause, and the client initiates emergency contact with SERVPRO of Palo Alto.
Technicians arrive to inspect the damaged property and assess the extent of the damage.
If needed, board-up and roof tarping will be implemented to prevent further damage.
In some cases, water damage is present after a fire due to the fire department spraying the structure with hundreds to thousands of gallons of water to extinguish the fire. If water has damaged the property, SERVPRO of Palo Alto will remove the water and dry the affected rooms using dehumidifiers and air movers.
Due to the combustion of various chemicals during a fire, the smoke and soot can cause health effects. The damage restoration team removes these contaminants from all surfaces in the home or business.
All salvageable items affected by the fire are cleaned, sanitized, and disinfected, restoring them to their pre-damage condition. Industrial air scrubbers and fogging equipment remove odors.
Depending on the scope of the damage, the last step in the process may involve minor repairs or a comprehensive reconstruction project. Once this step is complete, the structure is restored to its pre-fire condition.
The team at SERVPRO of Palo Alto is committed to always treating clients, their homes, and their belongings with the utmost respect, care, and empathy. To learn more about fire damage restoration in Redwood City, CA, contact SERVPRO of Palo Alto by email at office@SERVPROpaloalto.com or call the office at (650) 800-3448