Typical Storm Activity in Palo Alto and the Property Damage Repercussions
10/8/2021 (Permalink)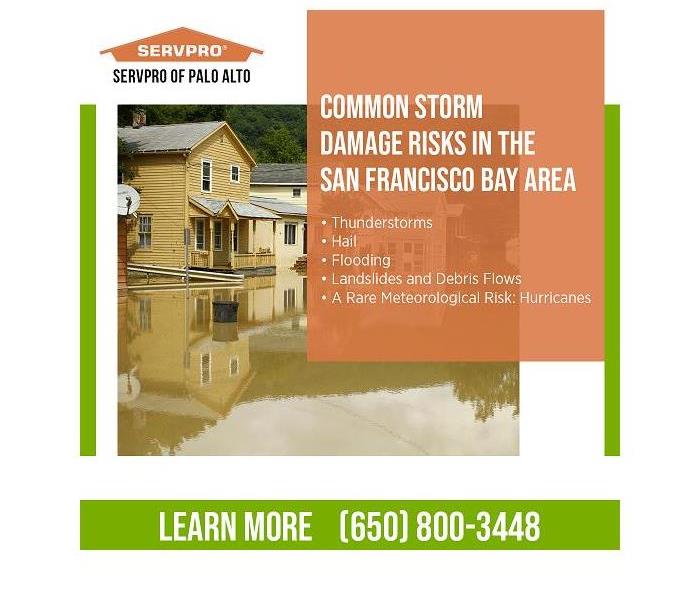 Blog Summary: SERVPRO of Palo Alto looks at storms and weather conditions that can lead to property damage in the Palo Alto, Atherton, and Redwood City areas of California.
The San Francisco Bay Area, including Palo Alto, Atherton, and Redwood City, enjoys some of the finest weather in the world, but even an area with a pleasant climate experiences occasional storms and the accompanying storm damage. This mild, comfortable climate is a magnet, attracting visitors and residents from all over the world, and storm damage risks are low much of the year, especially from May to November. It is during the winter months that the area receives most of its severe weather, which increases the risk of storm damage for homes and businesses.
Common Storm Damage Risks in the San Francisco Bay Area
Thunderstorms
Thunderstorms tend to strike the Bay Area during the winter months, and peak thunderstorm activity generally falls during late winter. Summer storms also occur, though less frequently. Stemming from the moisture remnants of monsoons and tropical storms, summer thunderstorms are associated with strong winds and short periods of heavy rainfall.
Hail
In March 2021, hail struck the Bay Area, and a travel advisory for the slippery roads was issued. A local news outlet described the weather: "A cold winter storm Wednesday delivered a little bit of everything to the Bay Area, from fresh snow and pea-sized hail to heavy downpours and thunder and lightning. Some areas in and around Santa Rosa looked more like the Sierra Nevada as hail piled up like snow on some roadways, leading to treacherous conditions for drivers caught in the storm."
When large, jagged hail impacts a home, the roof and siding can sustain damage severe enough to allow for water intrusion from the rain associated with the hailstorm. During the winter and early spring through April, weather patterns can bring storms that dump up to several inches of precipitation per hour. This much rain on a damaged roof can result in a water damage disaster that also involves the potential for mold infestation if the moisture issues are allowed to persist from more than twenty-four to forty-eight hours.
Flooding
One of the most destructive local floods in recent memory was the 1998 flood brought about by heavy rain. San Francisquito Creek can be traced to much of the flooding. Palo Alto Online notes that "in heavy rain events the creek has overflowed at least 13 times since 1910, with peak floods in 1955, 1958, 1967, 1982 and 1998, according to a 2006 report by the San Francisquito Creek Joint Powers Authority. The creek overtopped its banks again in 2012 and 2017, damaging property and, in 2013, damaging the dirt levee abutting an East Palo Alto neighborhood, which if breached could have taken lives. That flooding prompted a state of emergency in East Palo Alto, requiring emergency repairs to the levee."
Over the years, the community has attempted to mitigate the threat posed by San Francisquito Creek. Still, half of the East Palo Alto area is located within a flood zone.
Landslides and Debris Flows
According to the U.S. Geological Survey, "California is well-known to be susceptible to landslides. These range from small, but potentially fatal, shallow landslides that may mobilize into rapidly moving debris flows, to larger, deep-seated landslides that are capable of moving entire houses downslope. Coastal cliff collapses and cliff erosion also present landslide hazards along the coast of northern California, and debris flows from burned areas are a particular concern following wildfires in the region. Landslides in the state generally occur due to precipitation, and to a lesser extent, earthquakes. Historically, large winter storms have caused the most damage, and in the highly developed San Francisco Bay area in northern California these impacts have sometimes been quite severe, causing both fatalities and significant property damage…"
A Rare Meteorological Risk
Hurricanes
The last hurricane to strike California was the 1858 San Diego hurricane, which was presumably at least a Category 1 storm. Debate continues 160 years after this meteorological anomaly as to whether it actually was a hurricane and if it truly did make landfall.
Why do hurricanes or tropical storms rarely strike the Bay Area? Two factors have a bearing on why Palo Alto and the surrounding areas are generally safe from hurricanes, unlike the Atlantic seaboard. The relatively cool water temperatures are just not warm enough to generate storms of hurricane strength. In addition, wind patterns divert most severe tropical weather activity to the south of California. However, the Bay Area is no stranger to inclement and sometimes odd weather events.
SERVPRO of Palo Alto is one of the leading storm damage restoration companies in the Palo Alto area. When storms cause damage at residential or commercial properties, highly trained technicians are available 24-hours a day, 365 days a year, to provide a quick response and rapid remediation.
To learn more about storm damage restoration in Atherton, CA, and the surrounding area, contact SERVPRO of Palo Alto by phone at (650) 800-3448 or email office@SERVPROpaloalto.com