What Is the Cost of Water Damage in Sunnyvale, CA?
10/8/2021 (Permalink)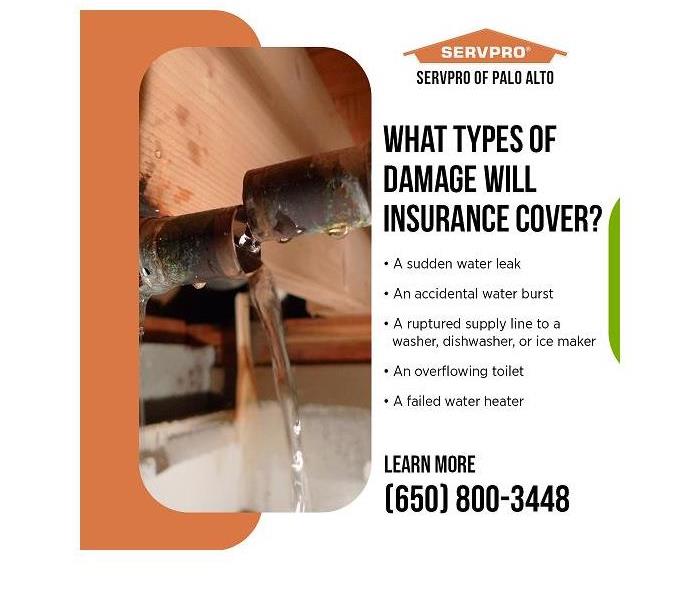 Blog Summary: SERVPRO of Palo Alto informs Sunnyvale property owners of the cost of a water damage disaster. When a water damage disaster strikes, quick action can speed up the restoration process and lower costs.
When a water damage disaster strikes, quick action can speed up the water damage restoration process and cut costs. Speed is critical if the water damage disaster is not covered by insurance. Fast water removal and drying also limit secondary advanced water damage, and the reduction in the scope of the restoration project decreases the overall job cost. The homeowner is able to resume life as normal sooner rather than later.
A growing trend of rising costs for water damage disasters
At a commercial level, large water losses in excess of $500,000 from non-weather-related causes have more than doubled since 2015. Industry analysts also report that large loss water damage disasters in excess of $1 million have tripled.
On a smaller scale, but nonetheless traumatic for the homeowner, the average claim for a home water damage disaster exceeds $6,700. Research indicates that most of these residential water damage claims stem from plumbing failures. Examples include frozen pipes in colder states. However, the recent cold snap in Northern Texas demonstrated the vulnerability of home plumbing systems that are unprepared for even one night of unusually cold weather.
Leaking pipes and connections along with burst supply lines to appliances such as the washer, dishwasher, and ice maker are primary culprits. After the deductible is met, the average cost for these types of failures is $5,092 per incident. These figures are provided by the Insurance Institute for Business and Home Safety.
Other plumbing system failures such as corroded pipes, leaking pipes, or pipes that have been improperly installed cause water damage losses that average about $4,300 per incident. Water damage claims from a failed water heater come in at more than $4,400.
A small amount of water can result in a large and expensive water damage disaster in a home. A typical, average-sized home contains more than forty different entry points that could lead to a water intrusion should that part of the plumbing system fail.
What types of damage will insurance cover?
Some water damage disasters are covered by a homeowners policy, while others are not. It is important for the homeowner to know the difference. A typical homeowners policy issued by a reputable company will cover water damage losses resulting from the following causes:
a sudden water leak
an accidental water burst
a ruptured supply line to a washer, dishwasher, or ice maker
an overflowing toilet
a failed water heater
What is not covered by standard homeowners policies?
Ongoing leaking and continuous seepage are excluded from standard homeowners policies. Insurance industry experts explain the challenges related to covering water damage disasters: "Coverage for water damage follows a general rule of thumb. Water that comes from the top down, such as burst pipes or rainfall, is covered by a standard homeowners policy... Water that comes from the bottom up, such as an overflowing river, is covered by a separate flood policy that can be purchased from private insurers or the federal government's National Flood Insurance Program. In the past, most homeowners and renters policies provided unlimited coverage for sewer and drain backups. That's no longer the case…Losses for sewer and drain backup-related events, caused by things like aging sewer systems, combined pipelines, tree roots, and sanitary main blockages, can now be covered under special endorsements to a standard policy. The rise in non-weather-related water damage is creating a flood of challenges, including rising rates and non-renewals. In California, more than 30% of companies have refused to renew policies of customers who have filed one or two water-loss claims in the past three years, according to the state Department of Insurance. Some insurers may eventually decide not to renew customers who fail to take preventative steps such as installing water shut-off systems..."
In case of a property damage disaster in a residential or commercial setting SERVPRO of Palo Alto is available to respond 24 hours a day, 365 days a year. Homeowners are urged to contact the professionals at SERVPRO of Palo Alto before a water damage disaster occurs. Prequalifying the SERVPRO team ensures that when a disaster does occur, only one call needs to be placed to have the water damage restoration company on-site in about an hour to inspect and assess the damage and to begin the cleanup and restoration process.
Contact SERVPRO of Palo Alto by phone at (650) 800-3448 or email office@SERVPROpaloalto.com to learn more about water damage restoration service in Sunnyvale, CA.