The Importance of Considering IICRC Certification When Qualifying a Restoration Company
1/10/2022 (Permalink)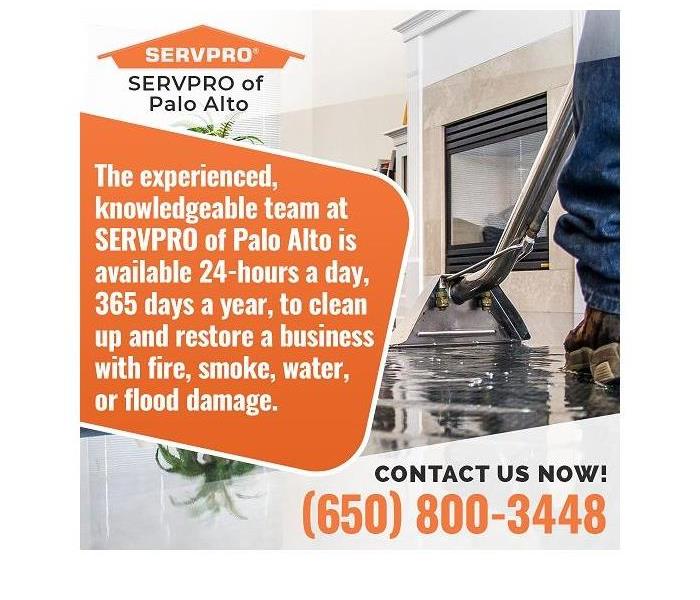 Blog Summary: SERVPRO of Palo Alto explains the value of hiring a commercial damage restoration and cleaning company that has been certified by the IICRC.
A rapid response and prompt water damage restoration services are needed when a burst pipe, sewage backup, or flooding disrupts normal business operations in a commercial setting. Professional water damage restoration enables the wheels of production to resume turning and the revenue to start flowing. In some instances, a delay in the provision of services at a commercial location can have serious consequences if the entity is a bank or a doctor's office. In these situations, hiring property damage restoration technicians with certifications in cleaning and restoration is crucial.
A business owner needing property damage restoration services can expect technicians with proper certification to have a high level of industry expertise. In addition, the commercial client can expect technicians to exhibit reliability and integrity in every facet of the cleanup and restoration.
The Institute of Inspection, Cleaning and Restoration Certification (IICRC) holds technicians to the highest certification standards in the inspection, cleaning, and restoration industry. The certification bar is set high to ensure technicians provide services using the best procedures in the industry. When a business owner is qualifying a property damage restoration company, IICRC certification should factor heavily in the decision-making process.
IICRC certification is meaningful. Decision-makers should heavily weigh property damage cleanup and restoration companies with IICRC company certification and technicians certified by IICRC. The reasons are outlined below.
Technicians have been trained and certified in the most advanced inspection, cleaning, and restoration procedures. The IICRC is an accredited part of ANSI, the American National Standards Institute, which oversees guidelines for best practices in use by private businesses, including the cleaning and property damage restoration industry.
Continuing education and training, essential for keeping IICRC certification current, maintain the technician's knowledge base and skill sets at the highest level. Continuing education credits are mandated every four years. As in other professional fields, keeping up with advancements in the cleaning and restoration industry is necessary to ensure the utilization of best practices when a disaster site is being cleaned up and restored.
These certified professionals reliably and consistently perform their job in every situation, no matter how difficult the circumstances or challenging the environment. IICRC-certified technicians are thoroughly instructed in the latest safety protocols ensuring occupants, technicians, and other authorized personnel stay safe at all times.
IICRC-certified companies demonstrate integrity in every aspect of the business relationship, from initial inspection to project completion. Industry competency is the cornerstone of IICRC certification. The foundation is business integrity. A business owner or homeowner that has been affected by a property damage disaster is vulnerable. Cleanup and restoration services must be quickly obtained and executed. An IICRC-certified damage restoration company adheres to a strict code of conduct regarding business ethics.
IICRC companies and their certified technicians are committed to resolving complaints or grievances according to the highest standards of accountability in the industry. When issues arise between the service provider and the customer, policies and procedures are in place to ensure that the matter is resolved swiftly and fairly for the client. Third-party accountability communicates a solid message to the customer that the IICRC-certified company is unswerving in its commitment to reliability, integrity, and fairness.
Technicians with IICRC certification sharpen their expertise and skill in a specific area by completing required coursework. For instance, certification as a Commercial Drying Specialist (CDS) encompasses classwork and hands-on training in the procedures and technical application of drying commercial structures, fixtures, and equipment that have suffered water damage. Having earned several certifications, technicians are eligible for the advanced statuses of IICRC Journeyman or IICRC Master.
When a water damage disaster occurs in a commercial setting, trust the certified professionals at SERVPRO of Palo Alto. The experienced, knowledgeable team is available 24-hours a day, 365 days a year, to clean up and restore a business with fire, smoke, water, or flood damage. A quick response, rapid remediation process, and minimal or no disruption enable the company to resume normal business operations so that it can meet customers' needs in a safe environment.
For more information about Redwood City, CA, commercial water damage restoration, call the team of restoration professionals at SERVPRO of Palo Alto at (650) 800-3448. The office can also be contacted by emailing office@SERVPROpaloalto.com