How Leak Detection Factors Into Preventing Expensive Repairs From Water Damage
2/9/2022 (Permalink)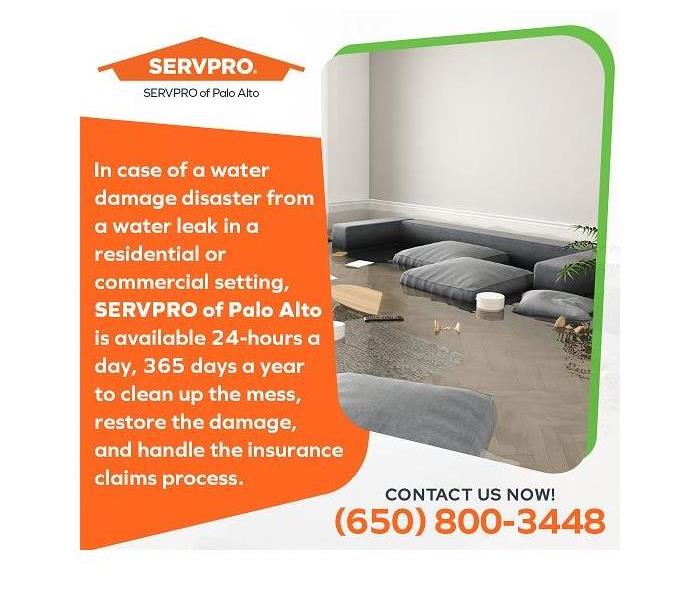 Blog Summary: SERVPRO of Palo Alto urges Bay area residents to pursue effective leak detection strategies in order to avoid a water damage disaster.
Water damage repair resulting from an undetected water leak can be very expensive. A constant drip from a leaky pipe or a water intrusion in the attic every time it rains can cause wood rot, mold, and mildew. The moisture can damage electronics, cause rust, and ruin items stored in the attic. Water or moisture in the crawl space can increase the likelihood of mold and a potential termite infestation. Roaches and other insects thrive on moisture from a water leak, especially in the relatively dry climate of Palo Alto, which receives about 17 inches of precipitation per year. Early detection of leaks helps keep a home dry, healthy, and safe. SERVPRO of Palo Alto explains why leak detection is essential to avoid a costly water damage disaster.
1. A water leak is a preventable expense.
An undetected pipe leak of a few drops per second may not seem like an urgent issue, but over time, it can add up to hundreds of gallons of water. Water in the Palo Alto area is scarce and growing scarcer, and the lack of water drives the price up, putting pressure on the pocketbook. An undetected leak stresses the water supply, increasing scarcity and driving up water rates. By eliminating water leaks one household at a time, the overall cost of water is kept low. An inspection by a professional plumber can detect leaks, saving the homeowner and the rest of the community on their water bills.
2. A water leak puts the safety of the water supply at risk.
The water supply in the home or business must be sanitary and safe for the occupants. A leaking pipe provides an avenue for contaminants to enter the water supply, and a compromised water supply is unsafe for human consumption. Food preparation, washing dishes, and personal hygiene may be unsafe if the water supply is compromised. Also, a leaking sewer pipe can contaminate an entire crawl space. Leak detection measures can give homeowners and business owners peace of mind.
3. Water leaks put a strain on the environment.
Changes in the climate have stressed supplies of freshwater in the United States, especially in the western half of the nation. A growing population along the Pacific coast puts high demands on water supplies that are suitable for human consumption and general usage. On a national level, home water leaks waste an estimated one trillion gallons of water, enough water to supply 11 million households for a year. Leaking faucets can drip 3,000 gallons of water down the drain per year. Water leak detection prevents water damage and preserves the environment.
4. Delay in detecting and repairing a water leak can drain the bank account.
A delay in detecting and repairing a water leak can result in advanced secondary damage. Wood rot, mold, and structural damage to flooring and support beams can exceed the repair costs of the initial water intrusion. Insurance may not pay for damages if a determination is made that procrastination played a role in the level of damage.
5. Leak damage may impact adjacent properties.
Undetected water leaks from pipes outside the home can saturate the ground to the extent that foundation damage results. A large-scale, long-term water leak from a water main can cause significant damage to adjacent structures. Repairs can be astronomical. A proactive approach to water leak detection can avoid a water damage catastrophe.
6. Leak detection ensures a reliable water supply for commerce and emergency services.
Concerted efforts to find and repair water leaks ensure a reliable water supply. An adequate supply of clean, fresh drinking water is a top priority for human survival and public health. Many businesses and industries require a constant supply of water to provide services and manufacture products. Without a reliable water supply and adequate water pressure, fire departments would be impacted.
7. Leak detection avoids the need to spend millions of dollars on infrastructure improvements.
An advantage associated with aggressive leak detection strategies is the efficient usage of available water. A concerted group effort maximizes the capabilities of the current water supply system. A community or water district with a culture of water conservation (limited consumption) and water preservation (leak detection and mitigation) can delay implementing further very costly expansions and additions to the existing system. In the meantime, advances in water purification technology may eliminate the need for expansion altogether.
In case of a water damage disaster from a water leak in a residential or commercial setting, SERVPRO of Palo Alto is available 24-hours a day, 365 days a year to clean up the mess, restore the damage, and handle the insurance claims process. Fast action minimizes advanced secondary damage and reduces disruptions, enabling clients to enjoy a prompt return to normalcy.
To learn more about water damage restoration in Redwood City, CA, and surrounding areas, call SERVPRO of Palo Alto at (650) 800-3448. The office can also be contacted by emailing office@SERVPROpaloalto.com