Why Atherton, CA, Businesses Would Benefit from Prequalifying a Dedicated Restoration Partner
3/9/2022 (Permalink)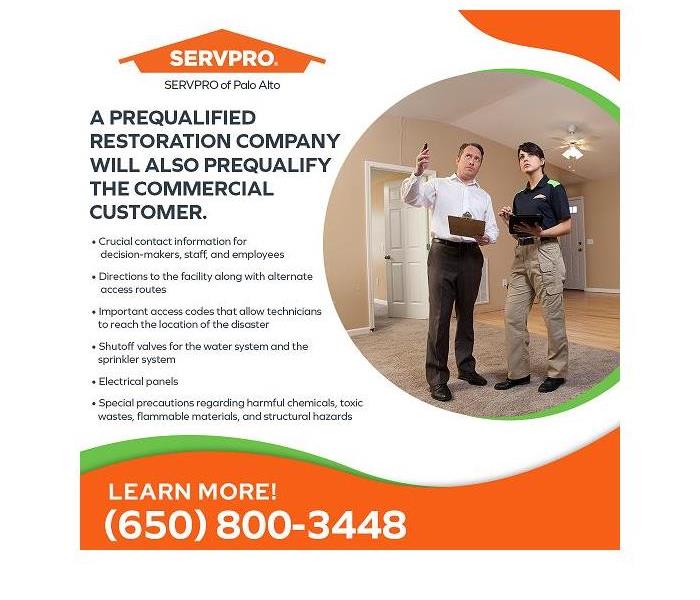 Blog Summary: SERVPRO of Palo Alto outlines the advantages that business owners can experience when they prequalify a damage restoration company to provide services in the event of property damage.
Businesses can take advantage of many benefits by establishing a positive, long-term relationship with a commercial damage restoration company that can provide water damage restoration, fire damage restoration, mold remediation, and storm cleanup services.
The establishment of a strong relationship with a trusted local restoration company in Menlo Park, CA, eliminates one of the biggest mistakes many businesses make when a disaster occurs: a delayed response. The task of finding and qualifying a damage restoration company while trying to deal with the effects of the disaster wastes precious time, allows the disaster to grow in scope and delays the recovery process.
When a disaster strikes, payroll often continues while production, sales, or service comes to a screeching halt. The identification and qualification of a reputable, trustworthy, competent disaster restoration company can steal valuable time. The distractions of constant interruptions from dealing with the immediate effects of the disaster can turn a simple action into an impossible task.
A local damage restoration company knows the surrounding community and any hazards associated with responding to a call during a natural disaster or the middle of the night.
A local company is nearby and can rapidly respond when notified. SERVPRO of Palo Alto can arrive at the client's business in about an hour, and technicians will take immediate action to stop the water intrusion by shutting off the water flow or installing emergency tarping if a roof leak is involved. They can also relocate furniture, equipment, electronics, and supplies to a safe area of the structure. Product, inventory, and equipment that are not movable can be tarped to protect them from moisture, dust, soot, or other harmful substances.
A prequalified restoration company will also prequalify the commercial customer. This dual pre-qualification involves gathering important information about the client, including:
Crucial contact information for decision-makers, staff, and employees with technical knowledge about equipment, raw materials, chemical hazards, or other safety or security issues
Directions to the facility along with alternate access routes in case roads are closed or impassible
In some cases, important access codes that allow technicians to reach the location of the disaster
Shutoff valves for the water system and the sprinkler system
Electrical panels
Special precautions regarding harmful chemicals, toxic wastes, flammable materials, and structural hazards
This vital information enables a crew to work quickly, safely, and efficiently without endangering themselves, the facility, or the business' inventory and equipment.
A long-term relationship with a property damage restoration provides peace of mind to a business owner, especially in a business climate that is economically challenging. The trust and confidence acquired over years of doing business together are priceless.
Tips for Selecting a Property Damage Restoration Partner
Here are some tips to help a business owner find and choose the ideal property damage restoration company.
Look for a company that makes risk management a priority. The pre-qualification process may involve a property inspection by the restoration company. A reputable, conscientious service provider will perform an onsite risk assessment that identifies potential hazards to occupants, the structure, and any equipment or products.
Risk avoidance and remedy should accompany the inspection and assessment. The relationship is a partnership that seeks to enhance safety, reduce hazards, and quickly clean up and restore any property damage that might occur.
Look for a company with the best equipment, the latest technology, and advanced cleaning techniques. The technicians should be knowledgeable, experienced, and certified.
Can the staff and management provide the customers with seamless, efficient project management, including the insurance claims process? This management feature provides project monitoring and oversight, quality control assessment and accountability, and the preparation and delivery of required documentation and reporting after the completion of the project.
Validate a prospective company's reputation by checking references and reading reviews. A reputable Palo Alto disaster cleanup and damage restoration company will gladly provide references from insurance companies and residential and business customers. Be sure to read online reviews.
Only go with a damage restoration company that provides a disaster-ready plan. The failure to execute a disaster-ready plan nullifies many of the benefits derived from the pre-qualification process. An accurate emergency response plan is essential for a best-case cleanup and restoration process after a property disaster.
Consider Prequalifying SERVPRO of Palo Alto Today
Every call placed to SERVPRO of Palo Alto is answered within a few rings. A trained, experienced customer representative calmly, courteously, and efficiently gleans important information about the disaster. If the customer has prequalified SERVPRO of Palo Alto, the disaster response is expedited. The team of restoration professionals arrives on the scene in an hour or less, fully prepared to address the property damage disaster.
For more details about SERVPRO of Palo Alto's commercial damage restoration services, contact the office by phone at (650) 800-3448 or by emailing office@SERVPROpaloalto.com