Strategies to Avoid a Mold Infestation Requiring Mold Remediation Services
9/6/2022 (Permalink)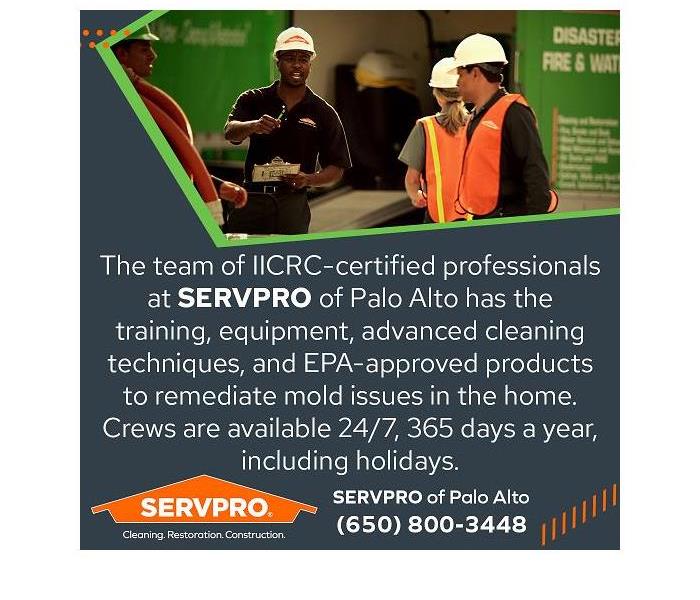 Blog Summary: SERVPRO of Palo Alto shares strategies to help prevent mold damage in Atherton, CA, homes.
SERVPRO of Palo Alto is dedicated to helping homeowners and businesses overcome property damage disasters, such as a mold infestation. To prevent mold growth in Atherton, CA, homes, the team at SERVPRO of Palo Alto is providing a mold prevention checklist.
Mold thrives in dark, warm, moist places with plenty of organic matter such as wood, paper, and natural fibers. In a day or two, mold can appear on walls, furniture, cabinets, clothing, appliances, and upholstery. An infestation can prove difficult to remediate without professional help, sophisticated equipment, and products to remove and kill the mold. Mold can be found in plain sight, but it can also hide between walls, on the backside of furniture, in the attic, and in seldom used closets. Mold growth can cause structural damage if its progress is not halted. The mold prevention checklist provided below can help homeowners get a handle on a mold problem in the home.
Home Checklist for Mold Growth
Moisture promotes mold growth. Excessive amounts of moisture accelerate mold growth, so mitigating excessive humidity in the home can help prevent mold growth. To detect moisture in the home, use a moisture meter. If humidity levels are at or above 50 percent, steps need to be taken to mitigate the problem. A musty smell in the home may indicate mold growth, and the odor will be most obvious after leaving the house and returning a couple of hours later.
A key indicator of excessive moisture is the presence of mold in closets, on windowsills, and behind furniture. Look and feel for condensation on toilet tanks, toilet seats, exposed pipes, and window panes.
Water stains are another red flag for excessive moisture. Check for bronze and brown stains on ceilings, windowsills, and walls. Feel the underside of plastic storage containers kept in the basement. If moisture levels are low, the containers will be dry. Damp bottoms on boxes stored in the basement indicate excessive moisture. Since plastic containers and corrugated boxes are seldom moved, any moisture on the bottoms of the items should alert the homeowner to moisture issues.
Tips for Controlling Indoor Moisture Levels
Changes in lifestyle practices can help reduce moisture levels in the home. Where possible, hang wet laundry outdoors to dry in the Palo Alto sun. Do not bring wet shoes, clothing, and umbrellas into the house. A clean home inhibits mold growth. Crumbs, dander, dust, and dirty dishes provide much-needed food for mold. Standing water in glasses, plates, and bowls increase moisture levels in the home. Cover aquariums to prevent moisture loss. Limit the number of houseplants, or select plants that require very little water. Interior xeriscaping allows a homeowner to have fresh greenery without moisture intrusion. Keep pet areas clean and dry.
How to Reduce Moisture from Appliances
An improperly vented clothes dryer can pump large amounts of moisture into a home and the crawl space where mold can proliferate. Inspect the dryer connection several times yearly to ensure the moist air is evacuating the house. Empty and clean the refrigerator drip pan. Check for leaks and cracks when cleaning the unit. Pay attention to water levels in room dehumidifiers. When not in use, keep the reservoir empty and dry.
Proper HVAC maintenance of coils, lines, and filters helps the system run smoothly and efficiently. Inefficient or malfunctioning HVAC systems can be a major source of moisture in the home.
Humidifiers increase moisture levels in a room or other living space. Use this appliance sparingly as it elevates the humidity in the home. During the winter, high-temperature levels in the house increase humidity levels in the home. Lower the thermostat and add a layer of clothing. The cooler, drier air will reduce the likelihood of a mold outbreak.
Other Strategies to Reduce Moisture Levels in the Home
As soon as a plumbing leak is discovered, have it immediately repaired. Clean up any water damage. If needed, call a professional damage restoration company to ensure affected areas are dry and any mold issues have been eliminated.
Keep gutters and downspouts clean and flowing freely. Ensure the grade around the foundation is sloped to avoid pooling around the foundation. Keep plants and shrubs trimmed away from the foundation. Create a barrier between mulch and the foundation. Make sure that sprinklers do not wet the side of the home. Install a moisture barrier to reduce moisture in the crawl space.
What to Do If Mold Is Discovered
The team of IICRC-certified professionals at SERVPRO of Palo Alto has the training, equipment, advanced cleaning techniques, and EPA-approved products to remediate mold issues in the home. Crews are available 24/7, 365 days a year, including holidays.
For more information about Sunnyvale, CA, mold remediation, call SERVPRO of Palo Alto at (650) 800-3448 or email the office at office@SERVPROpaloalto.com.